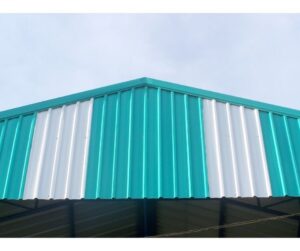 Single-ply roofing is a common type of roofing used on residential and commercial buildings in the Ohio area. It consists of a single layer of roofing material that is surfaced with a single layer of the membrane. The single-ply roofing system is a great choice for many new construction projects or as a cost-effective upgrade to existing roofs. In a nutshell, a single-ply roofing system is a system of sheets of plastic or metal that are laid on top of each other. This system is used by many commercial and residential buildings in Kenton, Findlay, Marion, Sidney, and other surrounding areas in Ohio because of its durability and low cost.
Single-ply roofing is a roofing system that uses a single layer of roofing material in order to cut down on the roof's weight—and labor costs. This lightweight roofing material is not only easier to install, but also has significant water-shedding and fire-proofing benefits. In addition, single-ply roofs are less expensive to build and maintain, which saves you money over the long term.
There are more options when it comes to the material of your roof than ever before. The materials you will use will vary by the type of job, the look you want, and other factors that can impact your decision. Single-ply is the most popular line of shingles available in the Sidney, OH and surrounding areas today, but that doesn't mean it's the only option. Some people believe that if the shingles are off-the-shelf then there is really no need for custom shingles. That's not quite true, as custom shingles can be a more cost-effective choice than buying off-the-shelf, and they can be used to create a look that no other materials can duplicate.
We all have different needs when it comes to our roofs, but one thing that many people have in common is the desire to grow their businesses. When your business needs to grow, you may have to make a variety of decisions. One of these decisions is made when you decide to upgrade your roof. Many people are still hesitant to choose a single-ply roof over another type of roofing because they don't know all the advantages it has. While there are many advantages of single-ply roofs, there are also disadvantages of the same, which should be taken into consideration when choosing single-ply roofs for your future property.
Bontrager Roofing LLC is Marion, Findlay, Sidney, and Kenton, OH's top choice for commercial roofing services. To learn more, contact us today!